Brandy
Wagsmore's Brandy Alexandra CD RE OAP NJP ME
(November 10, 1996 - October 25, 2014)
Brandy was our very first miniature longhaired dachshund. She was born in November 1996 and arrived in our household in February 1997. Brandy (along with Remy and Ouzo) is from the Wagsmore show dog line. Brandy's sire was the great Wagsmore show champion "Tommy." Brandy passed peacefully of old age on October 25, 2014, just short of her 18th birthday.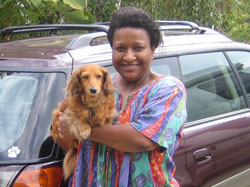 Brandy is a small (7 3/8" at the withers) and stocky miniature dachshund, with a long and thick clear red coat. Brandy is a "diva", with a sparkling personality that easily charms strangers. However, Brandy was not a natural canine athlete, and her titles required a lot of work on both her part and ours.
In June 2007, Brandy moved to Denver to live with our good friend and colleague, Bertha Adamson. Brandy enjoys being an only dog and the sole focus of Bertha's attention!
Brandy started her earthdog career with her first "Introduction to Quarry" session on 8 February 1998. While willing to go through the tunnels, Brandy had absolutely no interest in the quarry for many years. But Brandy finally discovered her "inner earthdog" and received her Junior Earthdog (JE) title in January 2002. After many failed attempts she figured out the Senior test and received her Senior Earthdog title in October 2003. In 2004 she amazed us all by earning her Master Earthdog title in November 2004. Brandy turned into quite a huntress, passing nine Master Earthdog tests, and even earning field points in late 2004 and early 2005 with a first and two third place finishes in Open All Age Bitches.
Brandy and Remy started agility class in July 2001. Brandy had trouble jumping at 8", so Diane started competing with her at 4" in AKC Preferred classes in September 2002. Brandy was the first dog to run and qualify at 4" in Southern California. She received her Novice Jumpers Preferred title in December 2002, qualifying in three of four Jumpers Preferred runs. Getting Brandy's Novice Standard Preferred title was tougher - she ran in Nov P standard twelve times and qualified for her NAP in December 2003. John started running Brandy in Open Standard in 2004 and to our surprise Brandy qualified for her Open Standard Preferred title in July 2004. Brandy ran in Excellent Standard Preferred for many years -- finishing many clean courses but never coming close to course time.
| | |
| --- | --- |
| Brandy exits the chute at DCA 2004 agility trial. | Brandy reaches the pinnacle of the A-Frame at the early morning DCA 2007 agility trial. |
Brandy started training in competition obedience in 2003 and, to our surprise, received two qualifying legs towards her novice obedience (CD) title in 2004. Then she had a bad experience in the group stay ring in May 2004. Diane and Brandy struggled for next two years to get that last leg and Brandy finally got her CD at the age of 10 on September 16, 2006, earning Second HIT at the Dachshund Club of Santa Ana Valley specialty trial.
Brandy enjoyed rally obedience and progressed steadily through her rally titles, earning her Rally Excellent (RE) title in April 2006.
| | |
| --- | --- |
| Brandy with Diane and her breeders Karyn and Jeff Dionne, after earning her first Novice Obedience leg in 2004. | Brandy doing a stand exercise in Excellent Rally at the April 2006 DCSAV specialty trial. |
| Brandy's recall finish at a 2005 specialty obedience trial. | Brandy finally earns her Novice Obedience title in September 2006. |