Puppies Have Fun Too!
Our first litter was born in the summer of 2018. The mother is Bossa and the father is Teo, a standard longhair dachshund from Denmark, now living in Ohio.
The whelping was an adventure. Bossa was in labor for about 36 hours, made several visits to the emergency vet, and finally delivered the first pup in the early morning of 18 August, minutes before being scheduled for a (thankfully unnecessary) c-section.
Since Bossa is Swedish and Teo is a Dane, we refer to the litter as The Vikings for their fighting spirit.
Viking Puppies Week 6 (5 weeks old)
The Vikings are now 5 weeks old and getting bigger and friskier all the time! Red is still the smallest at 1090 grams, followed by Yellow (1240 g), Pink (1450 g), Blue (1600 g), and the biggest, Purple, at 1680 grams. Sadly, we usually forget our camera when we introduce them to new experiences.
Here's video of all five playing the courtyard, along with Mom Bossa and Auntie Olive.
| | |
| --- | --- |
| Red (left) and Yellow after a play session in my office. | Pink's got a leaf! |
| Pink goes racing down the hallway after escaping from the puppy play pen. | Red with a fir branch from last night's wind storm. |
| Fun with pool noodles! | The Vikings enjoy breakfast after solving a barrier challenge. |
Viking Puppies Week 5 (4 weeks old)
At 4 weeks old, the Vikings are in too much motion for a group photo! Every day they are bigger and more sturdy. At the beginning of the week, they were still toddling and falling over. But by the middle of the week, they are walking well and even starting to scamper. We have taken them outside for the first time and they are meeting new people.
Here is a tiny bit of video of Yellow in the courtyard.
| | |
| --- | --- |
| The Vikings discover new lands during their first time in the backyard. | And there are a lot of smells to discover too. |
| Blue rolling on his back. | Pink taking her 4 week old photo. |
| Red on his first journey on the courtyard deck. | Potential puppy owner holding Red. |
Viking Puppies Week 4 (3-4 weeks old)
Below is the Vikings group photo at 3 weeks old, on 9 September. Red (495 g) is half the size of Purple (1000 g), with the others between 770 and 930 g. They are all on their feet (but not very steady) and can see and hear.
| | |
| --- | --- |
| Purple male at 3 weeks. The big guy! | Blue male at 3 weeks. Very steady. |
| Red male at 3 weeks. Our little explorer! | Pink female at 3 weeks. Always takes a cute photo. |
| Yellow male at 3 weeks. A quiet guy. | The Vikings moved this week from their whelping box in our master closet to their puppy pen in Diane's office. |
Viking Puppies Week 3 (2-3 weeks old)
Here is Bossa with the Vikings on 1 September.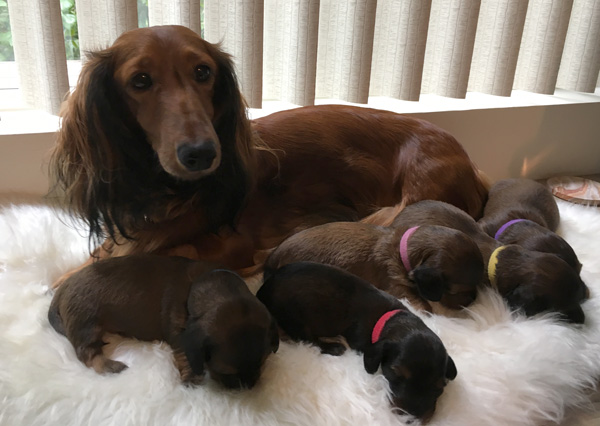 And here is the Vikings 2 week old portrait, taken on 1 September. They have all doubled their birth weight, ranging between 385 g (Red) to 685 g (Purple). Pink's eyes are open and the others are starting to open their eyes.
| | |
| --- | --- |
| Pink's eyes are open! | Rabbit fur is very popular for scent stimulation. |
| | On 2 September we introduced the Vikings to lapping goat's milk from a little dish. At right, Red is trying to climb out of the whelping box to get more! |
Viking Puppies Week 2 (1-2 weeks old)
Here is Bossa with the Vikings on 24 August. As of Day 10, Blue and Purple have doubled their birth weight, Pink is close at 185%, Yellow is at 165% and Red at 152%.
And here is the Vikings 1 week old group photo, plus individual shots of Blue and Red.
We're following Jane Killion's Puppy Culture socialization program and are doing the Carmen Battaglia Early Neurological Stimulation Exercises.
| | |
| --- | --- |
| | Head held erect (left), scent stimulation (above) and supine position (below). That's Pink below right. |
| | |
And finally, here's a very happy Pink
Viking Puppies Week 1

Here is Bossa with her pups after they came home.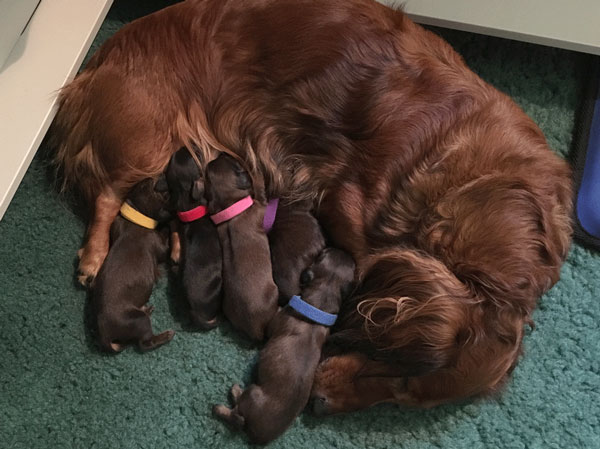 Blue and Purple are the biggest males, Pink is the female, and Yellow and Red are the smaller males.
One of the most brazen explorers in the litter is the smallest guy, with the red collar. Here is is at weigh-in on day 2.
Bossa is being a wonderful mom. Here Blue relaxes on her muzzle.