Olive
FC MACH PACH Autumn Olive von Dorndorf VCD1 TD CD RAE MXS MJB MXPB PAX NF JE
(10 June, 2004 - 5 March, 2021)
Olive is a small standard red longhair bred by Patt Nance in Corning OH. Along with her litter sister Asti, Olive is part of the Dorndorf "O" litter with the AKC and "A" litter with the Deutscher Teckelklub (DTK). Olive is descended from a long line of distinguised American field dachshunds, including her mother "Marta" ABS6 FC Marta v Dorndorf L JE LH. Her father "Kasi" is a Swedish and Norwegian Champion and an AKC Field Champion.
Olive was born on June 10, 2004 and joined our household in January 2010. Olive is 14.5 lbs. and about 9" at the shoulders. She is smart, enthusiastic, attentive and extremely affectionate. One is never lonely when Olive is around!
Olive was our first dachshund to earn a MACH (agility champion) title and having earned her Junior Earthdog title in June 2013 has now titled in six different AKC performance venues -- agility, field, tracking, obedience, rally and earthdog.
Olive's Early Years with Patt Nance
Olive spent her first 5 1/2 years living with her breeder, Patt Nance, in Ohio. With Patt, Olive earned Verzuglich/Excellent conformation ratings at the North American Teckel Club Zuchtschau in 2006 and 2007. She also earned her BHP-G (German obedience titles) and passed the Water Retrieving test at the 2008 Zuchtschau. Olive earned her AKC Field Championship with a first place in a class of 26 Open All-Age Bitches at the Louisville Dachshund Club trial in October 2008. In December 2008 Olive passed the TD test to earn an AKC Tracking title.
Olive had a litter of two male puppies (Pax/Kurbis and Polo) in July 2008 and a litter of one male puppy who died shortly after birth in February 2009. We tried breeding Olive one last time in Fall 2011 without success.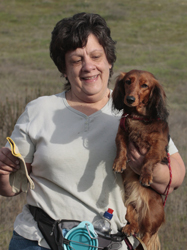 Patt thought Olive had untapped potential in agility and obedience and in late 2009 convinced us to give Olive a try. She brought Olive out to California in January 2010 for the DCA 2010 field events and so we could take a look at her. Olive passed the DCA Tracking Test with Patt (photo at left), almost qualified in her first ever agility trial, and passed every test we gave her with flying colors! We were smitten, and Patt returned to Ohio with an empty Sherpa bag.
Olive had a great first year with us, earning seven AKC titles by the end of 2010, as well as being a DCA 2010 Triathlon Qualifier with Q's in tracking, agility and rally.
Agility
Olive qualified in her first four agility runs in April 2010, just four months after joining our household. She earned her NAJ (Novice Jumpers) in May 2010, NA (Novice Standard) in June 2010, her OA (Open Standard) in November 2010, and her OAJ (Open Jumpers) in January 2011.
In 2011, Olive earned her Excellent agility titles and started earning MACH points and double-Q's. Olive earned her Excellent Standard title in early February 2011, and her first MACH points by the end of the month. She earned her Excellent Jumpers (AXJ) title on April 29, 2011 and her Master Agility (MX) title on July 3, 2011. She closed out the year by earning her Master Agility Jumpers (MXJ) title on December 29.
| | |
| --- | --- |
| Open JWW - Costa Mesa, CA - Aug 2010 | Exc STD - Gig Harbor, WA - Aug 2011 |
| Exc STD - Costa Mesa - Aug 2011 | Exc STD - Costa Mesa - Aug 2011 |
2012 -- Olive's Journey to MACH
Olive started 2012 with seven double Q's and 267 points towards her MACH. She traveled with us to trials in Portland OR, Las Vegas NV, San Diego CA, Georgia (3 trials, including DCA), Lake Elmo MN, and Glen Allen VA. Despite slowing down at hot summer trials, Olive earned her 20th double Q on April 27 and her 750th point at the DASH trial in Costa Mesa CA on August 11.
Here's the video of Olive and John earning and celebrating their MACH.
You can find links to video of many of Olive's runs on the Olive's ExB Agility Career page.
| | |
| --- | --- |
| Olive earning double Q #15 at the Silverado trial in March 2012. | Through the chute for double Q #18 in Perry GA in April 2012. |
| Through the tire for another Q in Perry Georgia in April 2012. | MACH Olive and John celebrate with their MACH bars and ribbon on August 11. |
Olive finished 2012 with 31 double Q's and 888 points.
In February 2013 we started running Olive in Masters Preferred. She earned her PACH title on August 2, 2014 under judge Ronda Bermke. Click here for a record of Olive's journey towards PACH.
At DCA 2014, Olive won High in Trial Jumpers Preferred and High in Trial Standard Preferred!
Obedience
Olive qualified in her first Novice obedience trial in September 2010 and earned her CD (Novice Obedience) title in December 2010 after only four attempts. She earned her second leg despite being sniffed by a Toller in the Long Sit and her third leg doing stays between two Newfies. In the future, we'll stick to group stays at dachshund specialties!
Olive's Novice obedience career came to an abrupt end in February 2011 when she earned High in Trial at the Golden Gate Dachshund Club specialty. So now we're working on Graduate Novice and Open obedience.
Above - Olive is dwarfed by Newfies in the Long Sit but earns her 3rd CD leg and title on 10 Dec 2010.

Left - Olive earns her 2nd CD leg on 2 Dec 2010.
With her CD, Olive earned the AKC VCD1 (Versatile Companion Dog) award, which is given to dogs who earn titles in tracking, agility, and obedience.
Rally Obedience
Building on the skills she learned with Patt, Olive earned her RN (Rally Novice) title in May 2010, her RA (Rally Advanced) title in August 2010, and RE (Rally Excellent) title in December 2010, with five first places.
In 2011 Diane and Olive started working on the RAE (Rally Advanced Excellent) title, which requires qualifying ten times in both Advanced and Excellent on the same day. Olive earned her RAE title at the Dachshund Club of Southwestern Ohio trial on September 8, 2012.
Earthdog
Patt told us that Olive had absolutely no interest in quarry, and initially she was correct. But Olive became more and more interested in caged rats. She passed the Introduction to Quarry test at DCA 2011 in Wisconsin in May 2011, and almost passed Junior Earthdog the same day. In 2012 Olive passed IQ several times so it was time to focus on JE.
Olive earned her first JE leg at DCA 2013 (on her way to qualifying for her second Triathlon), and finished her JE title on June 25, 2013 at the Great Western Terrier Association test. On both occasions, she failed the first day of tests, then came back to qualify on the second day.